8 Juin 2023 – Provision of temporary protection status to Ukrainians in European countries: experience of EU, Council of Europe and UN – seminar for lawyers
17 mai 2023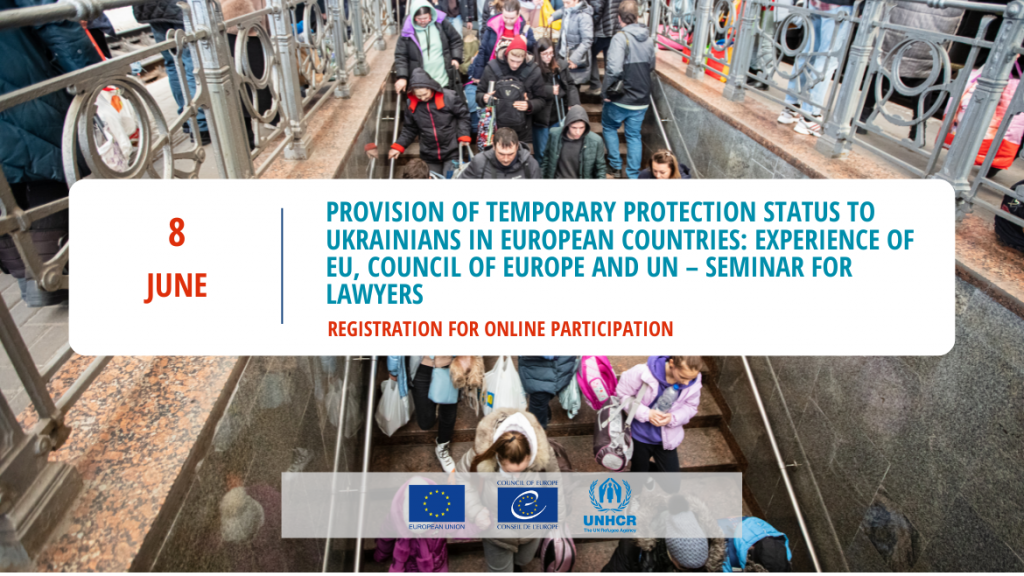 On 8 June, a joint seminar of the Council of Europe Project « HELP (Human Rights Education for Legal Professionals) for Ukraine, including during wartime », EU and UNHCR for European lawyers on European asylum/migration legal practices to assist Ukrainian refugees. The seminar is organised in cooperation with the Slovak Bar Association.
Since the start of the full-scale Russian invasion of Ukraine on 24 February 2022, more than 8 million Ukrainians have been forced to seek temporary protection abroad, mostly women and children.
The aim of the seminar is to exchange updated information on various European and national procedures and practices, implementation of the EU Temporary Protection Directive and other relevant international and European standards between international experts and Ukrainian and European lawyers assisting Ukrainians who were displaced due to war.
The experts will cover the implementation of the EU Temporary Protection Directive in the context of the ongoing war in Ukraine and discuss possible approaches to the legal status of Ukrainian refugees after the expiration of temporary protection status.
Also, participants will discuss the main challenges in providing legal assistance to Ukrainians displaced due to the war in the areas of protection of children's rights and family law, family reunification, parallel education of children, etc.
The key speakers of the seminar:
· Ms Leyla Kayacik, Special Representative of the Secretary General on Migration and Refugees, Council of Europe;
· Mr Wojciech Postulski, Team leader, European judicial training, DG Justice and Consumers, European Commission;
· Mr Bulent Peker, Senior Protection Officer, UNHCR Representation in Slovakia;
· Ms Eva Pastrana, Head of the Justice and Human Rights Training Division, Council of Europe;
· Ms Aleksandra Čižmariková, Vice-President of the Slovak Bar Association;
· Ms Katharian Lughofer, Project Manager, Justice, Digital and Migration Division, European Union Agency for Fundamental Rights;
· Ms Ana Isabela Trifescu, Information Assistant, Information and Analysis Sector, European Union Asylum Agency;
We invite the lawyers and attorneys specialising in migration law and dealing with the protection of the rights of Ukrainians with temporary protection status in EU countries to participate in the seminar in online format.
To register, please fill out the online form.